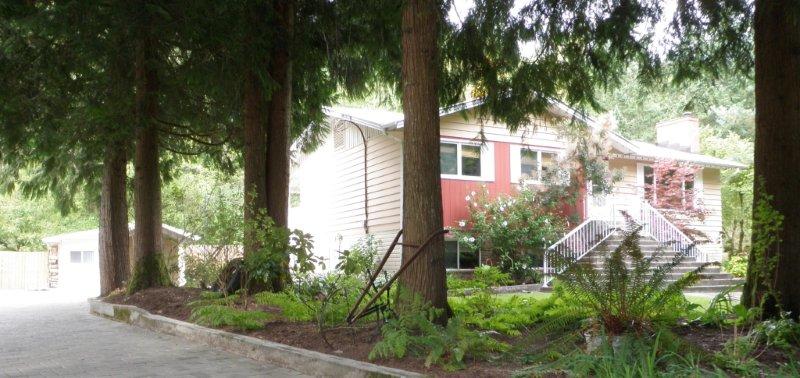 Chilliwack Bed and Breakfast accommodations in the beautiful Fraser Valley of British Columbia, Canada.

Riverbend Bed and Breakfast Guest House is an Adventure in Nature ! A nearly waterfront B&B in Chilliwack with mountain views and a short walk to the Chilliwack River.
Our Chilliwack Bed and Breakfast accommodations are just a three minute walk from fishing, 2 kms from Chilliwack River Rafting facilities, and near numerous hiking trails including the Trans Canada Trail. We are one of few Vedder River accommodations that are steps from world-class salmon and trout fishing, including coho, chum, pink, chinook, and steelhead. Not only are our Chilliwack Bed & Breakfast accommodations nearly waterfront on the Chilliwack Vedder River, but we are not far from Fraser River fishing too!

Riverbend Bed & Breakfast Guest House is nestled in the woods of Slesse Park in the Chilliwack River Valley in the beautiful Fraser Valley of B.C. The Chilliwack River Valley is known for its quiet scenic beauty and is a world class fishing and river rafting area. Our bed and breakfast in Chilliwack is one of the first homes constructed in the area. Our Vedder River cabin combined with our mainfloor B&B accommodations can sleep groups of up to 10. We offer low group rates, numerous amenities, and an amazing location, making this an affordable and convenient option for fishing groups or families.

To add excitement to your Canadian bed and breakfast accommodations, book a Guided Fishing Tour for Sturgeon or Salmon with one of our recommended Chilliwack fishing guides! Our scenic location is ideal for those who want to go Fraser River sturgeon fishing as well as fish the Vedder River while having affordable group lodging in Chilliwack. We can arrange a fishing holiday package for you. 
This Chilliwack B&B is ideal for guests looking for kayaking or river rafting accommodations, as the Chilliwack River Rafting facility is only 2 kms away or Hyak Rafting adventures are also nearby. Hike one of the local trails, take a short drive to one of the many area attractions or plan an enjoyable day trip. See our area attractions page for complete information.
If you are wanting to learn to kayak in Chilliwack, when you stay at our bed & breakfast, you will receive a discount with our preferred kayaking school.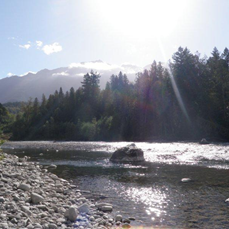 Our Chilliwack B and B is a short walk from fishing on the river banks, hiking / nature trails or a 2 minute drive from White Water Rafting on the Chilliwack river - a class 4 / 5 rafting rating. Canadian wilderness adventures await you here! We are an adventure in Nature! See our location to know just how close you could stay to all these great outdoor adventure activities.

Our Chilliwack River B&B offers special group rates, a frequent users discount, as well as a variety of options that allow you to make a package deal to suit your needs. Room-only rates are listed for those who just like to sleep and get up and go fishing! Book the Guest House as a private nature retreat, catch a bit of the Canadian Wilderness or share with family and friends for ultimate savings – the choice is yours at this friendly British Columbia Bed and Breakfast accommodation! Speaking of friendly, we consider ourselves pet-friendly accommodations, so long as the pet is trained and well behaved, as well as discussed and approved by the B&B hosts prior to booking.
Vedder River Cabin at our Guest House B&B in Chilliwack BC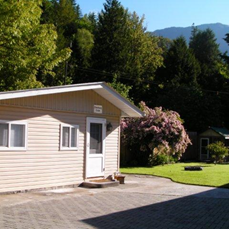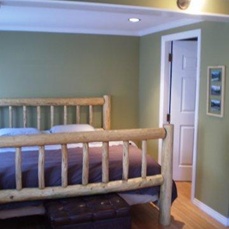 ADDITIONAL TRAVEL SERVICES: Please email Jessica at This e-mail address is being protected from spambots. You need JavaScript enabled to view it.  if you are seeking help planning your next BC holiday or international vacation. Flights, guided day trips & sightseeing tours, car rentals, honeymoons, group holiday packages, and tour packages can be arranged on your behalf. An amazing wedding gift registry for travel is available via This e-mail address is being protected from spambots. You need JavaScript enabled to view it. .
ALTERNATIVE ACCOMMODATIONS FOR LARGE GROUPS: If you are seeking a venue or accommodations for your retreat, business meeting, family reunion, wedding, or are in need of a vacation rental in the Fraser Valley, options can be recommended. If our accommodations do not suit your needs, I will help you find another place to stay in Chilliwack. Several options are available for large group accommodations in Chilliwack.
   NEW OWNERSHIP: Riverbend B&B Guest House has been under new ownership since July 2010. Jay and Jess have taken over Riverbend's Chilliwack B&B accommodations for retired hosts Wayne and Betty Snerle. See "Hosts" for more details on the new hosts.
                               Call us at: 604-769-FISH (3474)
50691 O'Byrne Road Chilliwack Fraser Valley British Columbia Canada V4Z 1B5
Email us at: This e-mail address is being protected from spambots. You need JavaScript enabled to view it.