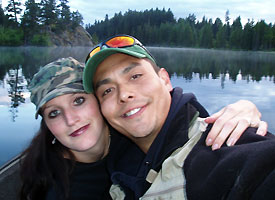 Jay and I took over Riverbend Bed & Breakfast Guest House in beautiful Chilliwack River Valley from Wayne and Betty Snerle in July 2010. We feel very fortunate to have been able to take over the business. The chance to meet amazing people from all over the world is very humbling to us and we very much appreciate the opportunity given to us. We can't believe people venture from all over the world to come stay with us! We are also thrilled about buying the house and knowing that we'll live the rest of our lives together in this gorgeous part of the world...surrounded by mountains, the Chilliwack Vedder River and so many fun outdoor activities like salmon fishing, skeet shooting, hiking, and river rafting and kayaking.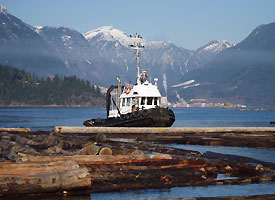 Jay works as a tugboat captain on the Fraser River. In his spare time, which is seldom these days with his never-ending "honey-do" list, Jay enjoys river fishing, lake fishing, riding motorcylces, hunting, skeet shooting, and general "red-necking". He also enjoys building things out of wood. His dream is to be able to work from home building furniture out of the shop.

I have my BA in psychology, love travelling, and hope to make it back to visit Europe again someday...although with a 4 year old in the house, that may be difficult. I enjoy river and lake fishing, camping, riding motorcycles, trying new adventures, kayaking, and of course hiking! There are dozens of hiking trials in the nearby area and I love to explore the incredible scenery that is rewarded at the top of a challenging hike. I find that when you physically challenge yourself to do something and are able to do it, you are rewarded with the confidence to know you can accomplish many other things in your life. This is why I take my son hiking. I've got him started early and hope to instill in him confidence and a passion for the outdoors. Too many kids don't get outside enough these days or have passion for anything!

We both adore this area, our home, and the awesome guests & friends we've had the pleasure to encounter so far. We appreciate the opportunity we've been given here and hope to meet lots of great guests in the future. Thank you for your support!

Jessica Boisjoli & Jason Henry